Masquerader's Fall Play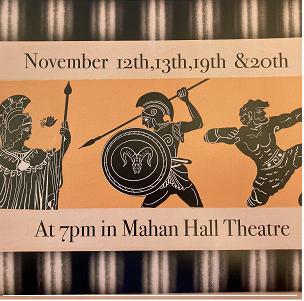 The Masqueraders present:
Mary Zimmerman's Argonautika: The Voyage of Jason and the Argonauts
by
Gaius Valerius Flaccus, Translated by David R. Slavitt
&
Apollonius Rhodius, Translated by Peter Green
World premiere by the Lookingglass Theatre Company, Chicago.

The United States Naval Academy's Masqueraders bring to life the epic tale of Jason and the Argonauts in this contemporary spin on classic mythology. Tony Award winning playwright Mary Zimmerman invites viewers of Argonautika to board the Argo to embark upon "the first voyage of the world," in which our hero, Jason, leads his crew on a perilous journey for the miraculous Golden Fleece. Along the way, the Argonauts discover monsters, mischief, and a love story, gifted from the goddesses Athena and Hera, themselves. Argonautika is a play full of hearty humor and gut-wrenching drama. Described by the Chicago Tribune as "endlessly imaginative, and thoroughly enjoyable," Argonautika invites viewers to Ancient Greece's magic and marvelous intrigues, including the origins of western seafaring, and the creation of the night sky's constellations. The Masqueraders will launch Argonautika this November in the historic Mahan Theatre.


Due to language and mature content, the play may not be appropriate for young children.

Friday, 12 November 2021, Mahan Hall 7pm
Saturday, 13 November 2021, Mahan Hall 7pm

Friday, 19 November 2021, Mahan Hall 7pm
Saturday, 20 November 2021, Mahan Hall 7pm


Tickets: $15
General Admission

Purchase online, by phone, or at the door on the evening of the event.