Halloween/All Saints Concert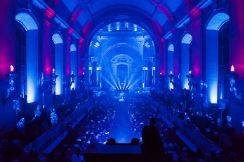 The USNA annual Halloween Concert is a spectacular event of music, light, drama, and dance. One of the most popular events on the Yard, this production is an experience you will not soon forget!
This electrifying concert features Monte Maxwell, Chapel Organist, with the multi-faceted talents of midshipmen in a presentation that has drawn record-breaking crowds into the Naval Academy Chapel.
A wide variety of music from multiple genres, including the famous Toccata and Fugue in D Minor, are featured in this concert celebrating the triumph of good over evil and All Saints' Day. The incredible performances, special effects, and grand finale will leave you on the edge of your seat!

Friday, October 27, 2023, Main Chapel 7:00pm
Friday, October 27, 2023, Main Chapel 10:00pm
Saturday, October 28, 2023, Main Chapel 7:00pm

The Halloween All Saints Day Concert is a general admission event, seating is first come first serve. Please arrive early to enjoy the entertainment outside of the Chapel and to ensure you have time to find the best available seat before the show begins. It is a tradition for concert goers to line up outside the Chapel before the performance. The doors will open 45 minutes prior to the start of the show. The Chapel will fill up quickly once the doors open. Per ADA Standards, "Accessible Seating" is available and reserved for the use of patrons with disabilities and their companions. Up to 3 companion seats (general admission tickets required) will be permitted for each patron requiring a handicapped-accessible seat.


General Admission $40.00
Child 11 and under $10.00
Midshipmen $20 (Midshipmen need to purchase tickets at the Ticket Office to receive the discounted price)


A USNA shuttle will be running for all performances.

Pick up at Navy Marine Corp Stadium on Friday, running 4:00 pm- midnight and Satuday, 4:00 pm to 10:00 pm.

The shuttle pickup point is near the Blue Angel plane on the Blue (West) side of the stadium. Enter the stadium parking lot through Gate 5, off Taylor Avenue. The cost to park at the stadium could vary.