Masquerader's Fall Play 2013
Loading Results....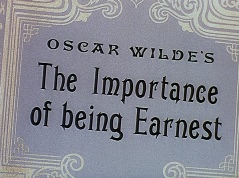 The Importance of Being Earnest was written by playwright / novelist / poet and all around literary genius, Oscar Wilde. It premiered in London in 1895 at St. James's Theatre. Set in London and the English countryside during the late 19th century, The Importance of Being Earnest is a both a whimsical romantic comedy as well as a sharp-witted satire of Victorian society.
A Group Discount is available. Please call the Ticket Office at 410-293-8497 for more information.